Here are three new reviews from London Film Festival, starting with my favourite so far, and ending with the one with the big stars.
Arab Blues (Manèle Labidi Labbé, France)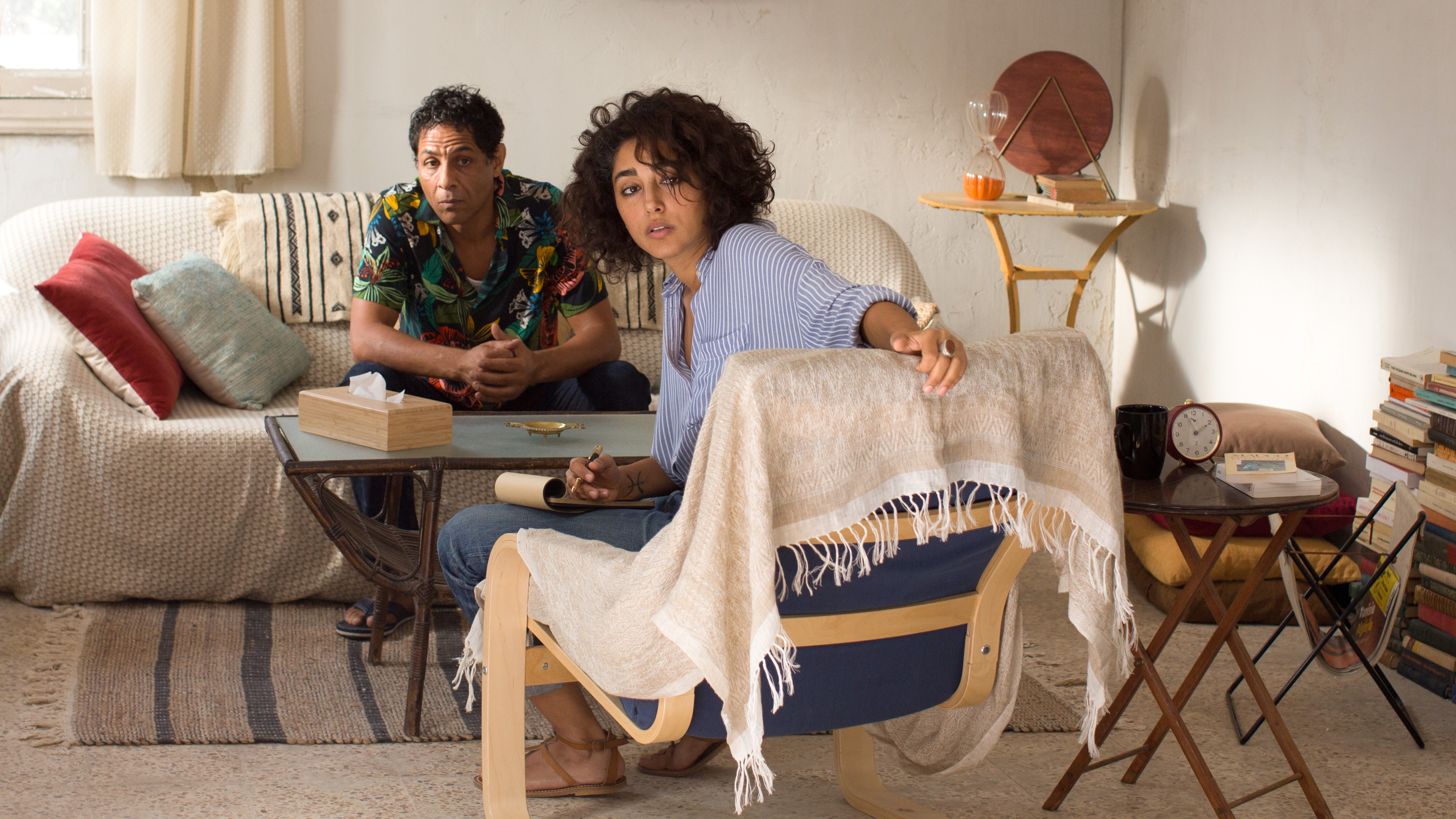 This is a delightful film about Selma (Iranian-French actress Golshifteh Farahani), a psychoanalyst who, after spending most of her life in Paris, returns to her first home Tunis to take up her practice there, feeling Tunisians need her more than in oversaturated Western countries. While at first the locals don't quite believe she will make a difference (the best line in the film is "crâneuse post-coloniale", meaning "post-colonial show-off!"), people slowly start to flock to her and realise how much she is helping.
What I enjoyed about this film was its multilingualism (French and Arabic) and the very specific cultural questions that director Labbé focuses on: reasons for women wearing the veil, reasons for getting married, as well as the upkeep of the rule of law when so much business is handled in secret.
I also deeply enjoyed Farahani's independent spirit and competence in her work. Her stoic and poised behaviour completed some of the characters' quirkiness with great comic effect. 
System Crasher (Nora Fingscheidt, Germany) 
All I knew going in was this is a German film about social services. This film is quite a shock, with its loud music, colour flashes and main nine-year-old character who won't stop screaming. Benni has been kicked out of almost all the foster homes in the region due to her abusive and violent behaviour towards other children and adults. Her single mother is not able to take care of her without the fear of being physically attacked by her. This is heart-breaking, especially when we see Benni in her "quiet" moments being a sweet and thoughtful child. Various carers feel strongly attached to her, and try their best to calm her down, also putting themselves at risk. Unfortunately, a step forward doesn't mean it won't go backwards at any moment. The ending reminded me of the ending of Dolan's "Mommy" and one can't help but wonder whether in a few years, as a young adult, Benni will kill herself or someone. This is a scary reminder of the essential role of carers and the welfare state to protect the vulnerable.    
Blackbird (Roger Michell, USA)
With its art, kitchen, terrace, large windows and fireplace, the New England home of Lily (Susan Sarandon) and Paul (Sam Neill) is a dream spot for a family getaway, right? Well, not if the family has been invited for a last goodbye before Paul euthanises his wife.
This is a remake of the Danish film Silent Heart, and director Roger Michell (Notting Hill, Le Week-End) combines natural beauty with unstable family relationships. It hits the spot with me as I love family drama and arguments behind closed doors. There is an all-star cast as well, from Kate Winslet to Mia Wasikowska who, despite their official support of Lily's wish, have their own hopes for a change of mind. The walk on the beach and the Christmas dinner scene become quite emotional, especially with Paul trying not to burst into tears. However, something was missing for me in this film – I don't know if it was information, another location or a bigger fight.