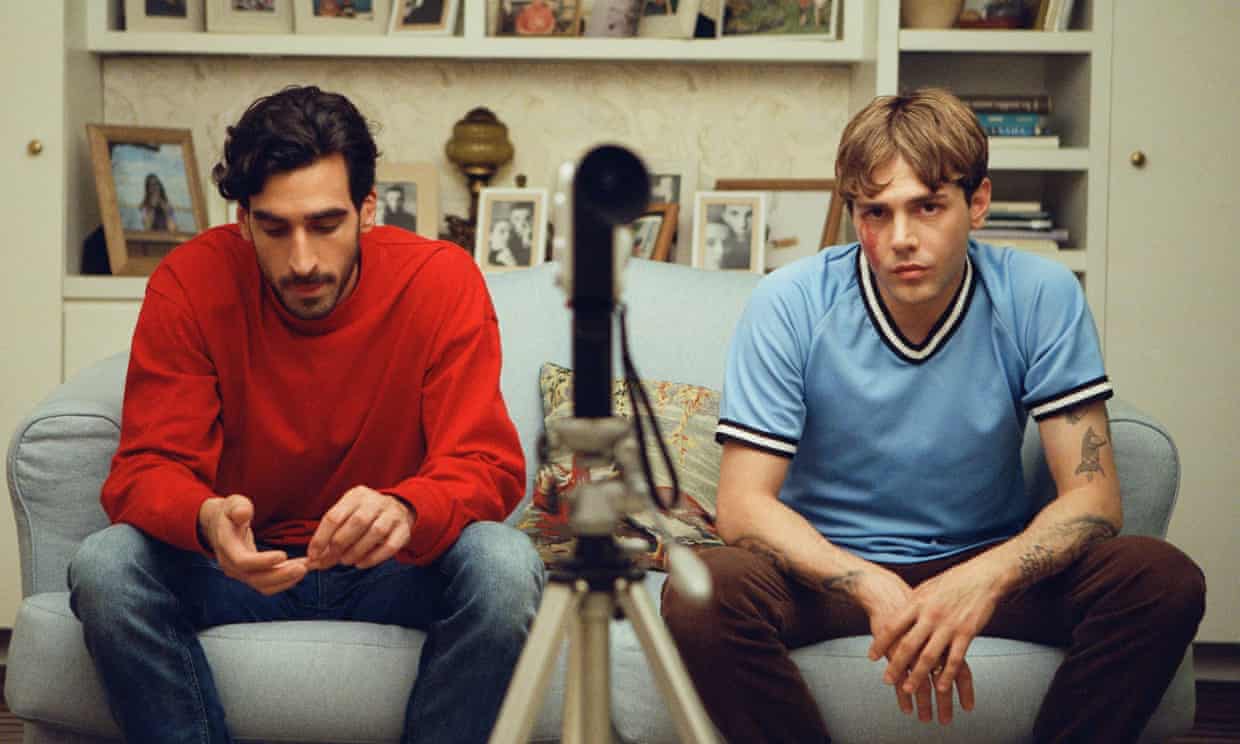 Ah, Xavier Dolan. Not only did he direct eight features before turning 30, he's back in front of the camera for Matthias & Maxime, a sweet and nostalgic film about a group of 30 year-old childhood friends, two of which are discovering that their deep friendship may be more than just that.
The image you see above shows Matthias (Gabriel D'Almeida Freitas) and Maxime (Dolan) who are about to perform a kissing scene in front of a camera for Matthias' uber-millennial sister's student film. This event was unexpected to both of them, as Matthias has just lost a bet and Maxime kindly volunteered to be an actor for an hour.
I've been obsessing over how in the previous scenes, in which a group of friends reunite in a Quebec country house for a week-end before Maxime flies off to Australia for two years, Matthias was wearing blue, and Maxime red. For this scene, it's the other way around – has anyone else noticed that?
The audience doesn't see the kiss, as it's hidden by the blurry camera you can see in the image. And this is the unique artistic voice of Dolan – where he puts the camera, what is in slow motion or accelerated, what we hear, and what the music muffles always has a specific emotional purpose.
Following the kiss, the friendship between the two young men changes and they start talking less and less. What's more, Matthias has a girlfriend and is about to become an important lawyer in his firm. The changes in his life as he turns 30 and as his good friend is about to leave town are overwhelming him in ways he couldn't have anticipated. How long until he will be able to stop hiding his feelings from himself? It is moving to see how his closest friends have noticed what he's going through but never push him or doubt his struggle.
There is a scene in a car where Matthias fails to express himself to his girlfriend, and I think this scene moved me the most – Dolan shows a man who is burning on the inside and can't let the words out. The car is moving fast, the road marks pass underneath, time is running out, and all he has is what is going on in his own head.
The group scenes in this film are delightful, as the actors seem to be improvising but knowing Dolan, they are not. The open ending is beautiful and light, reminding us of the ease and support that exists between these friends.
I would have liked to see more of Matthias towards the end of the film, but I laughed a lot and was moved by this story which goes back to the director's original style and home country (following settings in France and the USA).